San Diego Mobile Alloy wheel / Rim Repair / Restoration - Curb Scrapes -Bent Rims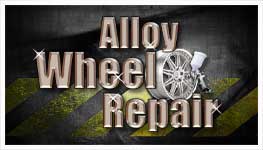 Our San Diego - North County mobile aluminum and alloy wheel / rim repair and restoration process delivers the solution your looking for when it comes to repairing your wheel(s) from curb scrapes, scratches, chips, pit holes and even bent wheels.
No need to worry, our mobile technicians professionally restore your painted alloy rims by using the latest technology, experience and expertise that is trusted with high end models, such as Ferrari, BMW, Porsche, Mercedes and just to name a few.
Our scratched wheel repair service is a convenient service that is performed at your home or office in a short period of time and is guaranteed your 100% complete satisfaction. Our philosophy is and always has been simple, " to provide the highest quality wheel repair and the most friendly, honest & dependable customer service" known to man.
We choose to use only the highest quality urethane paints and clear coats as well as requiring the most professional quality standards from our highly skilled technicians, to ensure the most positive wheel repair experience possible. Complacency is simply unacceptable to us. As wheel and tire combinations continue to advance so does our research to utilize new and improved methods and materials.
Albeit not as convenient as mobile wheel repair, we do offer to our customers outside of the San Diego, Orange County and Riverside regions of California, a 24 – 48 hour turn around on all repairs shipped to our facility in San Diego.
Whether on or off the vehicle, we promise 100% satisfaction on all our repairs. We stand behind each and every wheel repair as if it were our own, "No if's, and's or but's" about it!
So whether you're an automotive dealer, automotive body shop, tire center or private party who can appreciate the convenience and cost effective approach of having your wheels repaired at your facility, home or office; we look forward to showing you that there is a difference between mobile wheel repair companies.
Bent Wheel / Rim Repair and Restoration from Pot Holes, Curb Checks and Accidents.
We service anywhere in San Diego and North County. Unfortunately, we do not offer the bent wheel repair service on-site. However, we have another cost effective solution. We offer free pick up and delivery! Yes it's true. We'll come to your location, pick up your bent wheel or rim and return it back to you within 48 hours! Your wheel will come back looking new again and perform without wobbles, miss balancing or leaking air.
From alloy to aluminum, Dent Time will fix and repair your wheel back to pre-accident condition without the high cost of replacement. Your wheel is placed on a special wheel straightener and hydraulically aligned and calibrated back to factory radius. As always, your satisfaction is guaranteed or no charge will be applied. For more information and prices, please email us your photos or contact us by phone.